Getting Started - Speed Test
Speed tests measure how fast your device can upload and download information by pinging the closest or most reliable test server. We frequently ask technicians and users who are having issues to provide us a speed test in order to understand their current connection. Below are our steps for running a clean speed test of your own to get the best results.
Our recommendation for a comprehensive and free speedtest: Cloudflare Speed Test
Saves results via sharable link or free account to revisit previous tests

Offers scoring and visual comparison data

Performs binary file transfer testing rather than software or connection reading
BEFORE RUNNING YOUR TEST!!
Please ensure you are not running any programs or services that would affect your network performance. Having any program or service that downloads or makes periodic requests will severely affect the accuracy of this test.
Temporarily disable any VPN, Zscaler, and any remote network connections

Temporarily disable any network security or WiFi scanning tools such as inSSIDr

Close any P2P or file sharing platforms

Close any streaming service windows such as Hulu/Netflix/Youtube

Close any other internet browsers or network windows for duration of speed test




Note: Refrain from opening any applications or services during your speed test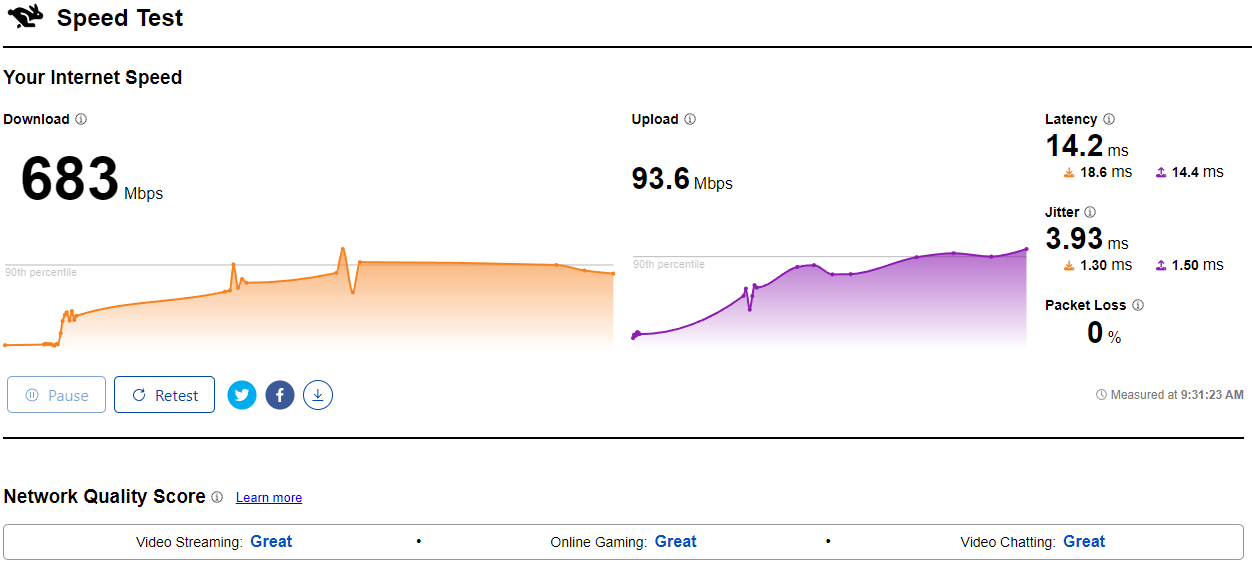 When coordinating with Join, provide the following information in your response:
Device Platform: Windows, Mac, Linux, or other device (Specify)

Network or WiFi SSID connected to when performing test

Results URL (Link provided on the results page)

Any other notes about your experience that will help us understand your issues
Step by Step Speed Test
Visit speed.cloudflare.com on your device's internet browser

Once the page is loaded, the speed test will run automatically

During the testing period, please refrain from opening any applications or visiting websites during the testing period.

After 1 minute, the test will conclude with full results display.

Click the share/download icon located next to the pause, social media, and retest buttons. Results will be saved in a CSV format for ease of sharing.

Results & Best Practices
Signal Strength
While speed tests don't typically measure Signal. It's worth mentioning that Zoom always recommends a signal strength of (-80dBM) or lower in order to properly stream without stutter or packet loss in transmission. The closer you are to zero, the connection will improve drastically
Issues or Odd results?
Power cycle your computer, router, and modem. This usually can be best done by disconnecting each device from power for thirty seconds before reconnecting
My Ping is High
Ping or Latency is the amount of time it takes your device to receive a response after sending a request to a remote server. Ping scores are typically given in milliseconds (ms)
Having a high ping above 60 ms tells us there are issues in the communication between your computer and the receiving server. This helps us narrow the approach as the connection is having issues reaching out before initiating any download/upload functions
If you have high ping on your tests, ensure no other applications that utilize the internet are open and running. In most cases, a high ping stems from interfering applications if the connection is otherwise functioning and fast for others
My Upload speed is Low
Please note on home connections, most upload speeds are vastly slower than their download speeds. It's not uncommon to see a download speed of 100mbps with an upload speed of 10mbps
On enterprise and our networks, you should expect a closer ratio but take note that there most likely will be a small difference in upload/download speeds due to usage
Zoom and Video Conferencing
Having issues with Zoom/Streaming? Zoom requires a minimum speed for Group Meetings:
1.0 Mbps Upload/Download (HD Video)
3.0 Mbps Upload/Download (1080 HD)